PARADISE PAPERS
Loyal Customer at British Tax Havens, Hyosung Group
---
Hyosung Group, Korea's 23rd largest conglomerate, has come under fire in the past for forming slush funds in offshore tax havens.
Currently, members of the owner family are under trials on alleged tax dodging and embezzlement through offshore tax havens.
The family members, as well as current and former Hyosung executives, were identified in the documents leaked from Appleby.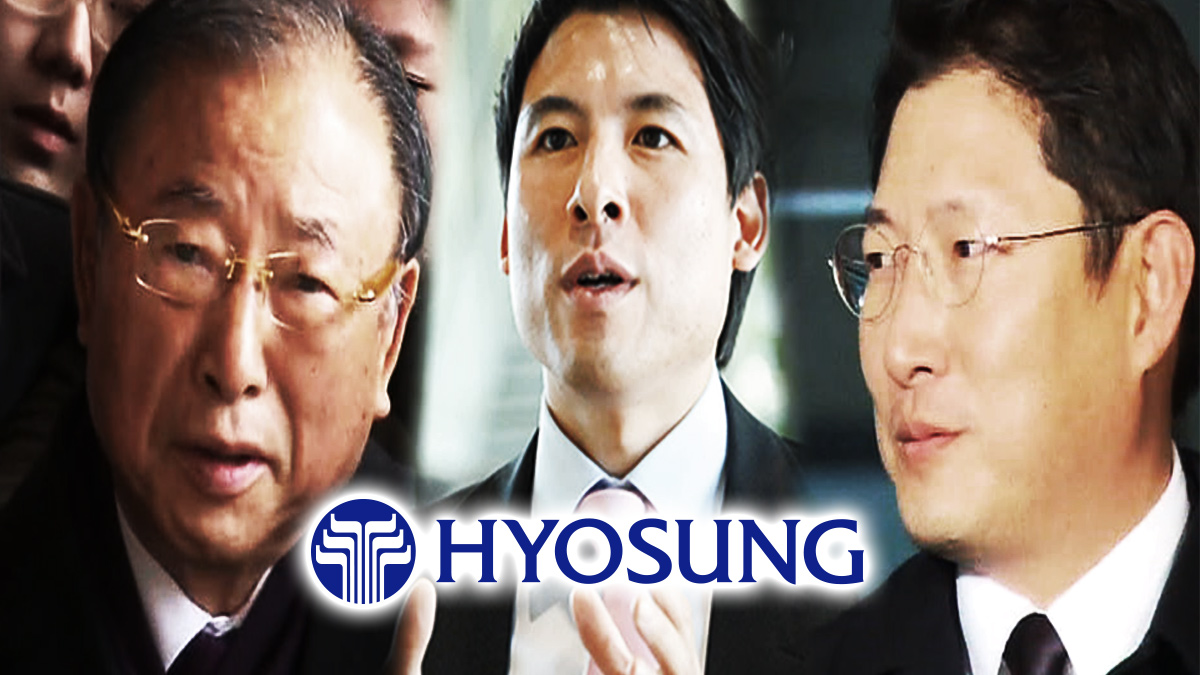 Hyosung Group's former chairman Cho Suck-rai and his son, the incumbent chairman Cho Hyun-joon, were both convicted at the first trial; the senior Cho with a charge of tax dodging, and the junior Cho with embezzlement.
The whole picture of how Cho family abused offshore tax havens was fully disclosed through the prosecutor's investigations and trials.
The family ingeniously took advantage of the legal loopholes in offshore tax havens.
Let's take a look at the cases unveiled by the prosecutor's office for charges.
Hyosung's owner family: Korean 'masters' of abusing tax havens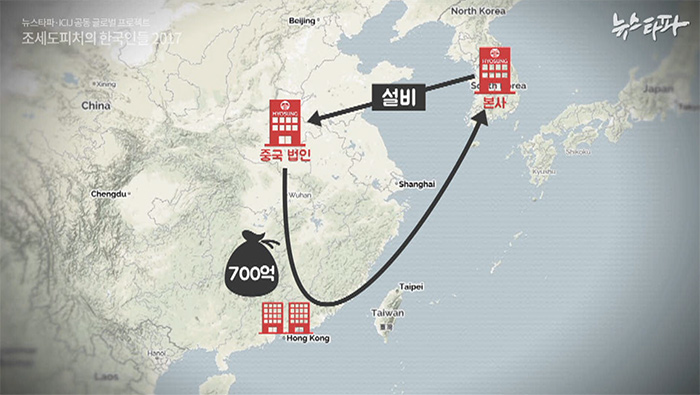 Former Chairman Cho Suck-rai established four shell companies in long-standing tax havens Bailiwick of Guernsey, along with his second son Hyun-moon.
Then, he sells the warrant bonds, which grant the right to buy Hyosung Corp. stocks, to these four shell companies at a cheap price.
Besides the fact the Cho family has done that via offshore tax havens, this is exactly the same method used when Samsung Electronics Chairman Lee Kunhee inherited wealth to his son Lee Jae-yong in an illegal means.
After few months, the Cho family converted the bonds into equities and sold them to leave a profit margin of nearly 7 billion won ($6.28 million).
They, of course, did not report the profit to the Korean tax authority.
Of 7 billion won, the family transmitted about 5.5 billion won to a shell company it established in the Bahamas, and again transmitted this money to another shell company based in the U.S.
The final destination for this money, this U.S.-based shell company was actually owned by the senior Cho's eldest son -- current Chairman Cho Hyun-joon.
Here's another case.
Former Chairman Cho established two shell companies in Hong Kong.
Hyosung headquarters is supposed to sell facilities to its China-based office. It unnecessarily makes the sale to pass through these Hong Kong-based shell companies. This process requires the shell companies pay a total of 70 billion won in license fee to the headquarters.
Then, this extra amount of money is transferred to end up at a third shell company in Hong Kong. The Korean prosecutor's office suspects that this to be the senior Cho's nominee company.
Since long time ago, the Hyosung owner's family has taken advantage of shell companies at offshore tax havens.
Another company was found in the massive amount of data leaked from Bermuda-based law firm Appleby.
Hyosung Power Holdings, a suspicious entity in the Cayman Islands, had Cho Hyun-moon as a board director
It is Hyosung Power Holdings, a company established in the Cayman Islands in Feb. 2006. Hyosung Corp. is its 100 percent shareholder.
This company is also identified in Hyosung Corp.'s regulatory filings.
According to the filing, this offshore company was established as a holding company but later registered as an electric transformer manufacturer at the end of 2012. Then it was re-registered as a holding company in the third-quarter in 2013.
At the time of establishment, the company's asset was worth 30 billion won ($26.9 million), which later rose up to 70 billion won. But all of sudden, the company was liquidated in 2015.
KCIJ-Newstapa requested for a comment to Hyosung Group what type of company it was, but the company's representatives replied they don't know.
Q

:

Don't you know what role did this company hold?

Choi Hyung-sik / Head of PR Division at Hyosung Group

:

I have no idea.

Q

:

Among all overseas affiliates, multi-billion won was injected to this particular one. And you, a PR director at headquarters, have no idea of what this company is?

A

:

No, I really don't have any idea about this. I apologize.
Appleby documents include this offshore company's information in detail, displaying names of board members.
All are current and former executives at Hyosung affiliates.
KCIJ-Newstapa asked around contact information about one of them, and reached out.
Q

:

There was a company called Hyosung Power Holdings in the Cayman Islands. I'm aware that you were named one of board members at this firm, while you were a managing director at Hyosung.

Former executive at Hyosung Power Holdings

:

Was I?

Q

:

Yes. Weren't you aware of this?

A

:

No.
The offshore company's list of board directors included his name even after this executive retired from Hyosung.
An unexpected name was found in the list.
It was Cho Hyun-moon, the second son of former Chairman Cho Suck-rai.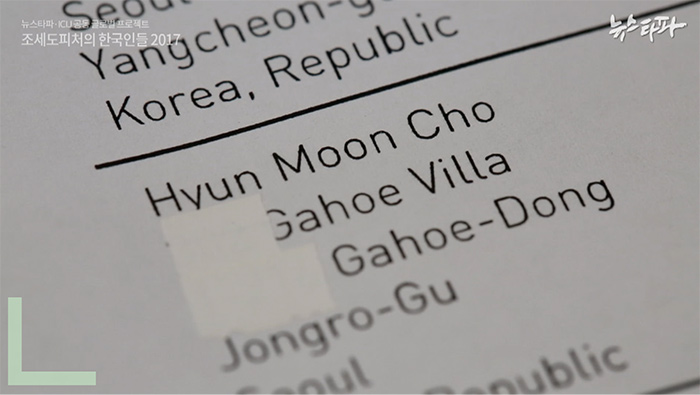 Hyun-moon is a U.S. attorney who deeply involved in the family's procedure of establishing the shell company in a tax haven and abusing it.
Later, he left Hyosung Group in 2011 after undergoing a conflict against his elder brother Hyun-joon, current chairman of the group.
He even reported his brothers to the prosecutor's office in 2014.
Since Aug. 2008, Hyun-moon served as a board director at this offshore company at least until March 26, 2013. This means, he retained this position in the board even after leaving Hyosung Group.
A close aide to Hyun-moon with a family name of Han had been listed as a board director since March 2009.
Huge but questionable investment occurred, which does not match numbers in Hyosung Corp.'s regulatory filings
This document is a part from meeting minutes of this shell company.
This meeting was recorded to have been held on June 2012 at Hyosung headquarters in Mapo-gu, Seoul.
At this meeting, Hyosung made a decision to invest additional $20 million to this company.
After the $20 million investment, this offshore company had a total capital of $83.1 million, worth about 88.2 billion won when applied the exchange rate on Dec. 31, 2012, according to the Appleby document.
However, Hyosung Corp. recorded at its own annual report that this company had an asset of 70.69 billion won as of the end of 2012, about 18 billion won smaller than one on the Appleby document.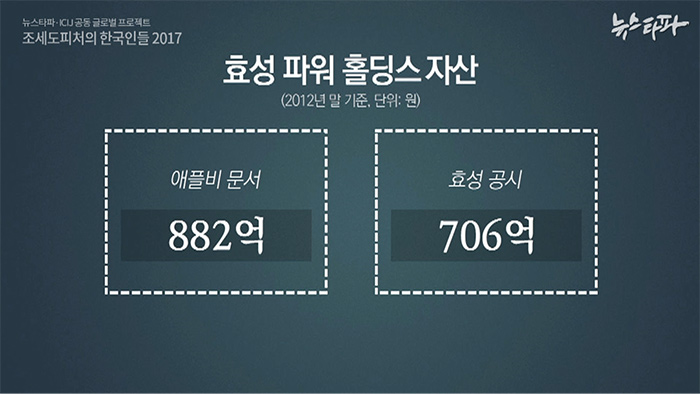 KCIJ-Newstapa inquired why the two numbers were so different, but the company denied to answer.
Choi Hyung-sik / Head of PR Division at Hyosung Group

:

It is hard for me to make any remarks on this matter, because we are not really familiar with it and don't have a certain stance on this issue. Plus, it happened a long time ago.

Q

:

It's not an old issue. It's a recent matter, as the company was liquidated in 2015.

A

:

Anyhow, we don't have any information about this matter. So we have nothing to say.
What was this company's for, and how was it related to the Cho family?
Q

:

Is there any possibility that the company was related to [tax dodging or slush funds]?

Former executive at Hyosung

:

It could have so. Back in the days, many problems existed around current chairman Hyun-joon. You know, he was involved in lawsuits.
The case of former chairman Cho Suck-rai and current chairman Hyun-joon is at the second trial for forming slush funds, tax dodging, embezzlement and negligence.
This is why the Korean tax authority has to start investigation on suspicious the Cho family's offshore company, identified in the Appleby documents.