NORTH KOREA
North Korea's Most Famous Defector Comes To Washington
---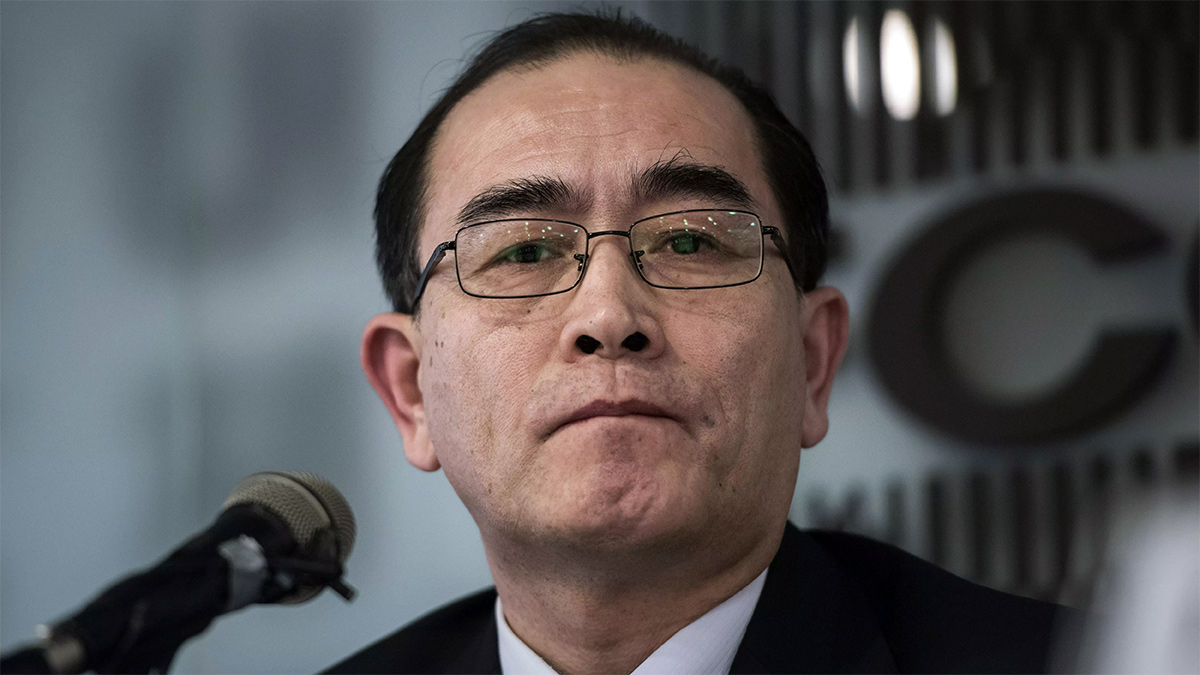 Thae Yong-Ho, the highest-level North Korean official to defect since 1979, spent two days in Washington this week calling for increased sanctions on the North and a greater focus on information warfare as a way to stop Kim Jong Un from becoming a nuclear power.
While emphasizing the dangers to the Korean people of the military options preferred by many US officials, including some in the Trump administration, Thae also embraced the regime-change policies towards Kim adopted by his hosting organizations and the US Congress. At one point, he declared that North Korea's repressive political system "was tantamount to the crimes committed by the Nazis."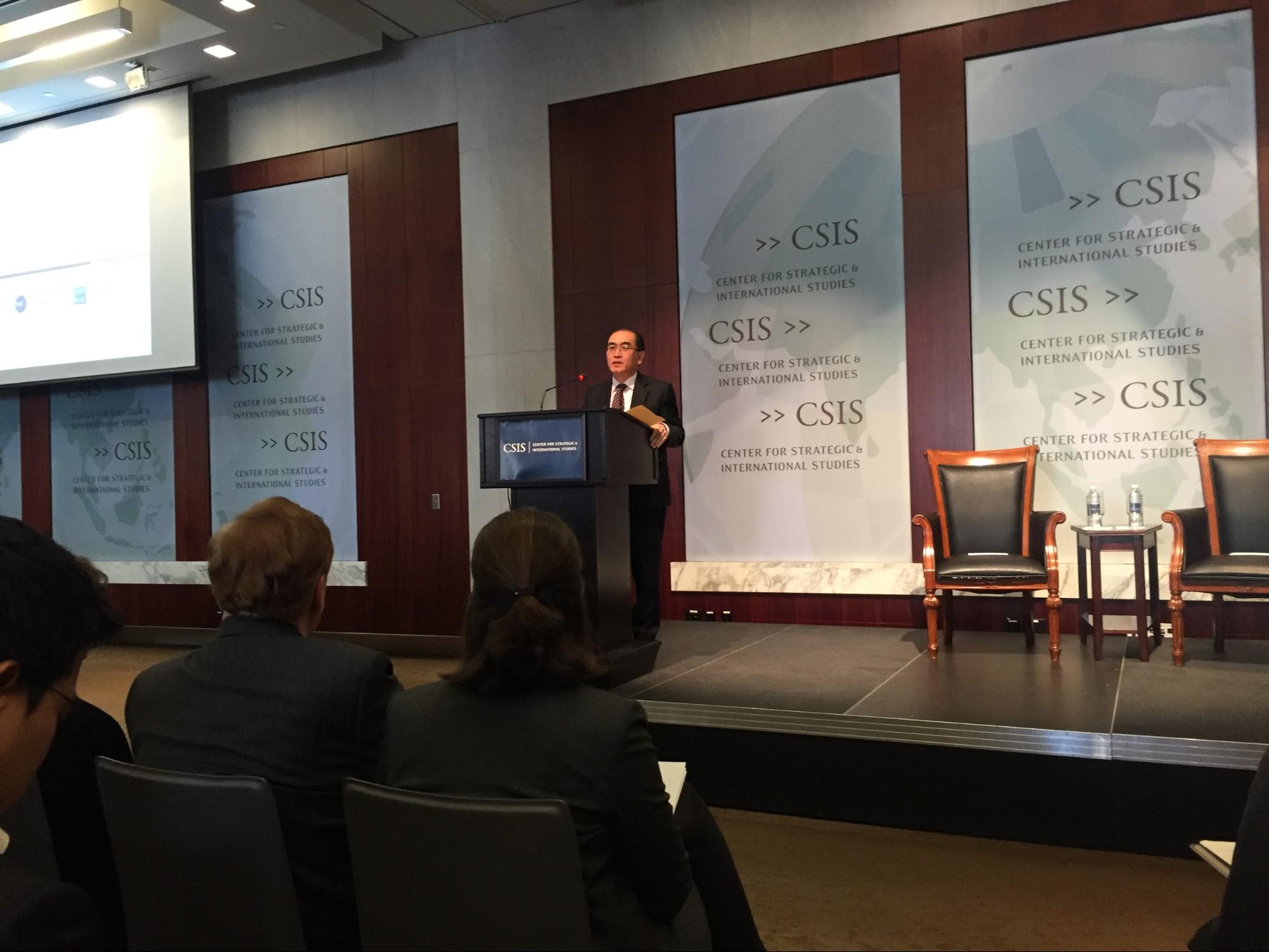 Thae Yong-Ho, former North Korea's deputy ambassador to London who later defected to South Korea, is delivering an address to some 200 people in audience as a guest speaker at CSIS.
"Wherever I go, I continue to tell Americans that North Korea is not the subject for destruction, but it should be the subject for change," Thae said in an address Tuesday at the Center for Strategic and International Studies (CSIS). But he is against pre-emptive US or South Korean action, largely because of the "human sacrifice" that North Korea could immediately inflict with its massive array of artillery and rockets on the DMZ.
"I support maximum pressure policy, but I strongly believe that maximum pressure should go together with maximum engagement," he told an audience of about 200 people at CSIS. He endorsed the "use of soft power before taking any military action" because information is key to ending what he called Kim Jong Un's "reign of terror" over the North Korean population.
"We can't change" that policy of the regime, he said, "but we can do the dissemination of outside information inside North Korea." He suggested a campaign of "tailor-made content" – smuggled in electronic memory devices that can be easily hidden from authorities – to educate the North Korean people and their ruling elite about the realities of the Kim regime and "basic concepts of human rights, freedom and democracy."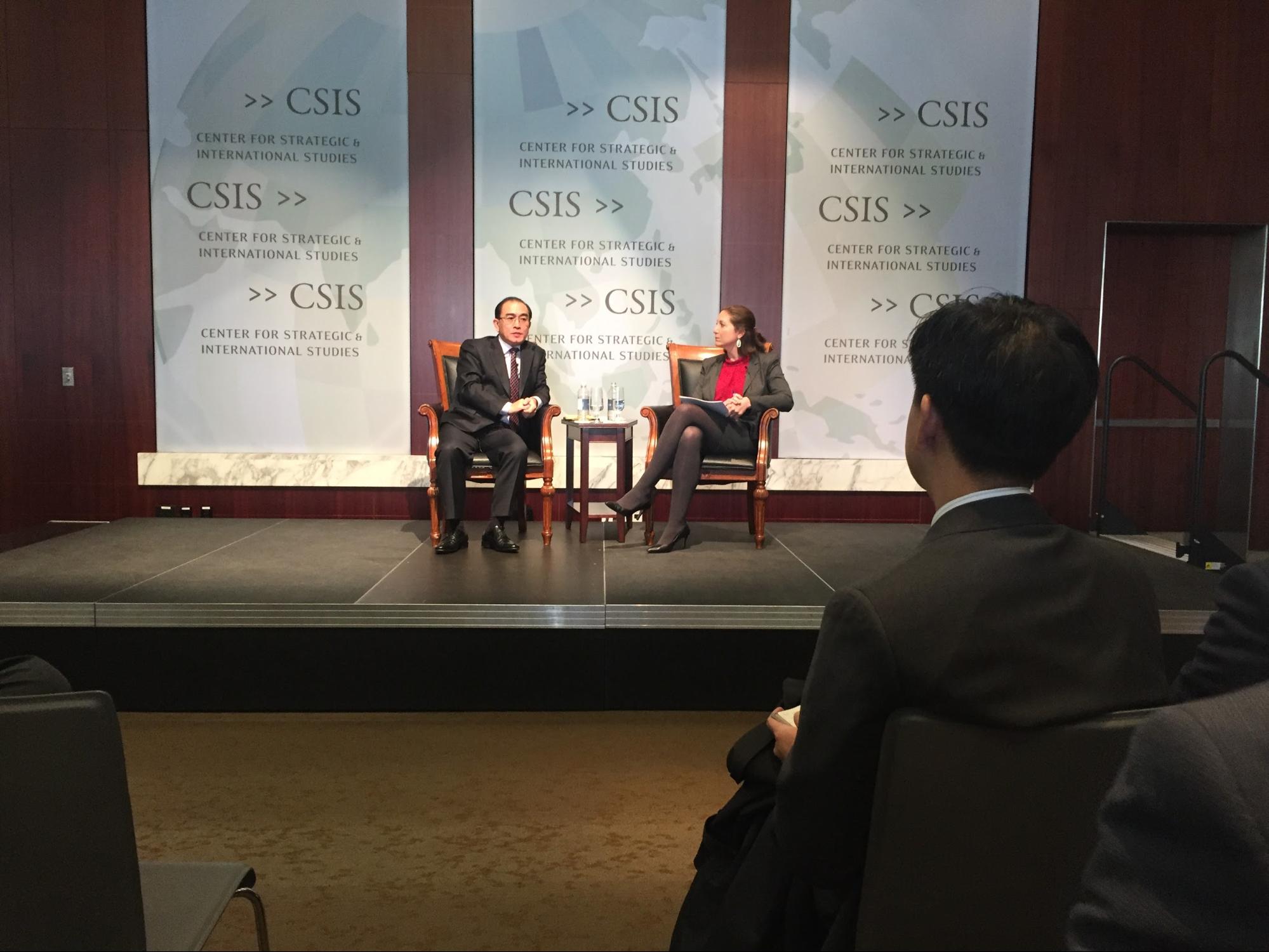 Thae Yong-Ho, former North Korea's deputy ambassador to London who later defected to South Korea, discusses with Lisa Collins, a fellow at CSIS Korea Chair Program, on Oct. 31, 2017.
Thae's first trip to the United States was financed by a group doing just that: the National Endowment for Democracy (NED). It is a US government agency created by Congress in the 1980s to supplant the CIA in supporting pro-US democratic forces around the world that in recent year has taken a major interest in North Korea.
His talk at CSIS was co-sponsored by NED and the Committee for Human Rights in Korea, which last week released a report based on newly available imagery that claims Kim has greatly expanded his "brutal and inhumane" prison system over the past four years.
Thae's appearances in Washington appeared to be designed to convince Americans that tough measures such as sanctions are necessary to deal with Pyongyang, and that North Korean defectors might be around who could run a successor government if the Kim regime ever collapsed.
"Thae Yong-ho can help us answer the question of how to understand North Korea, which is a precondition for the development of an effective policy to deal with the security threat," Carl Gershman, the longtime director of NED and a prominent anti-communist activist from the days of the Cold War, said in introducing the former diplomat. In 2006, according to NED's webpage on North Korea, the organization spent over $2 million on more than dozen organizations focused on bringing international attention to the human rights situation in North Korea and supporting the "free flow" of information into the country.
In his remarks to CSIS, Thae explained that it was his interest in the Internet and free information flows that triggered his decision to leave his position as North Korea's deputy ambassador to London and defect to South Korea in the summer of 2016.  Ideology and politics, in contrast, seemed to play a much lesser role.  
Thae said he began to think about abandoning his country while talking with his sons in London about the joys of Internet, "which is so great, even for study, for fun, for everything. But why does the North Korean regime not allow it?" Those questions, he said, placed him in a "very difficult situation," and he finally decided that "the biggest legacy I can leave for my sons is the freedom" provided to ordinary people by on-line information, chats and searches. "They saw a different world."
Many of the tales Thae related were familiar to people who've closely followed events in North Korea. He recounted Kim Jong Un's anger when he discovered, early in his reign, that "senior leaders" in North Korea felt uneasy that such a young man has managed to take power. All they knew was that Kim was "just a hidden boy in Switzerland" who had never even been photographed with his grandfather, Kim Il Sung, said Thae.
These officials expressed their discontent with lazy "body language" during Workers Party and government meetings that was "very different" from the respect accorded to Kim Jong Il. Thae also described the purges that followed, including the 2013 execution of his uncle Jang Song-thaek, to keep his new underlings under control. "Now, after five years, there's been a big change in body language."
He also recounted how the Arab Spring and the US and NATO-led campaign against the Gaddafi regime in Libya influenced Kim's thinking on nukes. The NATO bombing and its neutralization of Gaddafi's forces "were a major factor on Kim Jong Un," he said. "If he's armed with nuclear weapons, he can prevent that kind of 'humanitarian intervention.'"
Still, it was clear that Thae experienced much of Kim's early years in the dark, much like most of the population. When the new "byungjin" line of simultaneous development of North Korea's nuclear program and economy was announced in 2013, for example, he heard about it like everybody else. "Nobody in the foreign ministry knew about this kind of underneath process of adopting the byungjin policy," he said. "All of a sudden, one day, I read the newspaper that the Korean Workers Party had convened an important meeting and declared" it.
Moreover, for much of his career, Thae was abroad and far from the machinations going on under the previous rule of Kim Il Sung and Kim Jong Il. He received much of his education in China and, prior to London, served in North Korean embassies in Denmark and Sweden as well as the European department of his ministry. In 2001, he headed human rights talks with the EU ("an area close to the work of HRNK," Roberta Cohen, the chair of the Committee for Human Rights in Korea noted in her introduction to Thae at CSIS).
The fact that Thae lacked "insider knowledge" was one of the reasons US intelligence agencies declined to give him asylum when he defected in 2016, according to several North Korea experts I've spoken to. That's plausible, and his relative isolation was apparent when he appeared before the House Foreign Affairs Committee on Wednesday. Several times during his testimony, Thae was asked about aspects of North Korea's nuclear and missile programs that remain a mystery. He had no ready answer.
At one point, for example, a lawmaker asked Thae if North Korea had the ability to place a nuclear weapon on a missile and fire it at Seoul. "I'm not quite sure," he answered. What about their cyber capabilities? "I don't have exact information on that," he replied.
Another lawmaker inquired about the possibility of Chinese cooperation with North Korea's missile program and whether Pyongyang was sharing nuclear or submarine technology with Iran. Thae recounted information that's been in the press about the Chinese-made trucks that the North uses to transport missiles, and mentioned the visits of Iranian scientists to North Korea's nuclear site. But other than that, he had "no clear information."
Still, Thae's straight-forward approach and his stress on finding a peaceful solution to the crisis was in marked contrast to the visit to Washington last week of South Korean conservative opposition leader Hong Joon-pyo. Thae, for example, met with think-tanks like CSIS and NED and even endorsed direct US talks with Kim.
The end goal is to persuade the North to give up its weapons and then "help Kim Jong Un build its economy and make North Korea a prosperous country," he told Congress, "Before any military action is taken, I think it is necessary to meet Kim Jong Un, at least once, to understand his thinking and try to convince him that he would be destroyed" if the North attacks the U.S. or its allies.
Hong, on the other hand, promoted a more muscular policy. During his visit, he made a splashy visit to the CIA's new Korea Mission Center and held a press conference to urge the United States, South Korea and Japan to form a "freedom nuclear alliance" and return US tactical nuclear weapons to the Korean peninsula.
That would put the South "on an equal footing and then we will be able to sign a treaty to disarm the nuclear weapons," he told the Wall Street Journal. The US, he added, "should do away with the wishful thinking that North Korea will do way with their nuclear ambitions, because this is not happening."