SAMSUNG
Samsung Chairman Lee Kunhee Engaged in Suspected Prostitution
---
In April 2016, Korea Center for Investigative Journalism (KCIJ)-Newstapa exclusively obtained numbers of video clips and digital files from anonymous sources.
The materials included circumstances of Samsung Electronics Chairman Lee Kunhee suspectedly employed numbers of young female sex service workers through multiple instances over the course of several years.
KCIJ-Newstapa persisted to ensure the authenticity of these footages over the past three months. After comprehensive and thorough reviews, we concluded that the videos were free of any tamperings, with no traces of falsification.
We digged in deeper on the possibility in this matter based on multiple pieces of information spotted in the videos, and succeeded to find more evidences that can support a conclusion that the videos were recorded inside Lee's residence.
In particular, the video clips were found to have been recorded inside the chairman's private residence and a safe house. It is also suspected that Samsung may have involved in the process of preparing this safe house at the corporate-level.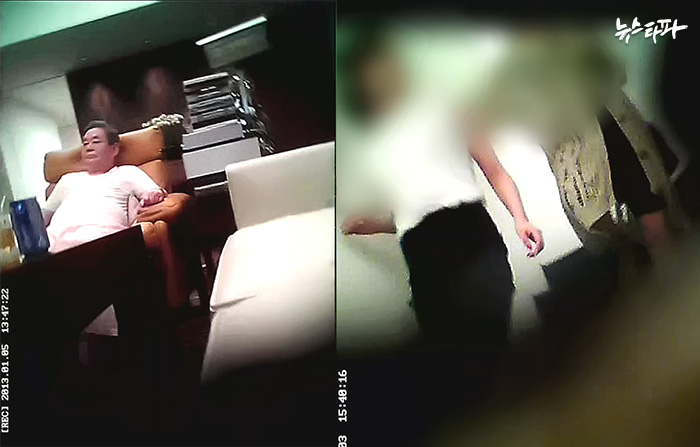 4-5 sex workers called in each time… "Each Compensated with 5 million won [$4,430]"
The videos that portrayed Lee's alleged purchase of sexual service were recorded over five instances on the following days.
When compared Lee's official schedules disclosed to the press, he was found to have stayed in Korea on all five days listed above. The five dates fall within the range of four days to two months since his return to Korea after his overseas visits.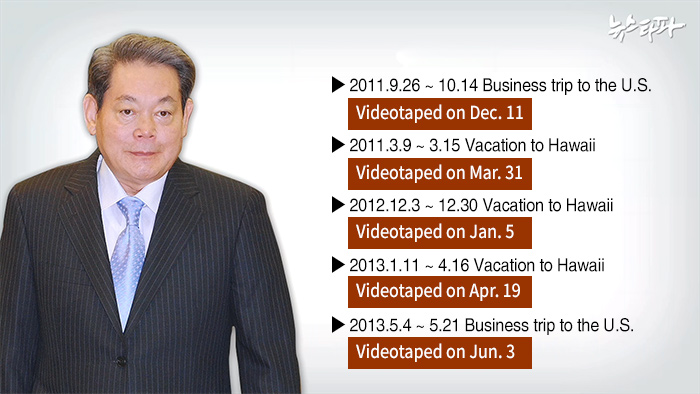 The video footages, which display Lee's suspected prostitution, were all recorded during the daytime, taken between 1 p.m. and 4 p.m.
A group of three to five female sex workers appeared at once in each video. Considering their appearance, the sex workers seemed to be in their 20s or 30s.
According to the conversation between Lee and the women, the group of women were all employed at entertainment establishments at the time, and Lee was also suspected to be aware of the fact.
The women appeared to have received about 5 million won ($4,430) per visit, considering another conversation among the women.
Experts "No tampering detected; no grounds to question the validity of footages"
With deliberate skepticism, KCIJ-Newstapa had undergone a process to verify the credence of these videos. We requested two professors specializing video imaging for a video deciphering.
After a meticulous frame-by-frame review on the videos, worth about seven hours in total length, the professors concluded that no traces of manipulation or edits were found, meaning that it is practically impossible to come up with a new video by artificially adding separate images of Lee.
Specific dates and time shown on the videos were found to be neither augmented synthetically, nor tweaked for modification. Also, no traces of cutting or augmenting parts of the clips were detected.
Even after getting confirmed by video image experts, we did not cease and went ahead to request an independent video analyst -- who has no conflict of interest with the professors we mentioned above -- for another session of confirmation. This analyst also confirmed that these clips were authentic ones.
KCIJ-Newstapa also carried out a voice analysis on Lee's voice. The analysis process required Lee's audio samples recorded in the past to compare his voice inflections, which appeared in the footage.
Reporters sifted through audio clips from publicly available videos to pick three specific words, which were repeatedly pronounced by Lee and matched those captured in the exclusively-obtained video.
Of the three corresponding words, two turned out to be 'highly similar,' while one was deemed 'impossible to review due to bad sound quality.'
KCIJ-Newstapa palpably invested in ensuring that all details were authentic of no possible manipulation by verifying every fact obtainable in the video, such as the consistency of the time as indicated on the clock and the program that was playing on the TV.
The period of his leg injury, too, clearly matched with the date appeared on the video. In conclusion, we acknowledged the credibility of these materials.
Lee's prostitution suspected to have happened in Samsung-dong and an upscale villa unit in Nonhyun-dong, southern Seoul
KCIJ-Newstapa tracked down streets and residential areas shown in the footage and verified possible spots by actually visiting each.
Following investigations, we inferred that the first two videos from 2011 and 2012 were taken inside a luxurious villa unit in Nonhyun-dong, Gangnam District, a posh part of Seoul; and the rest of the footages from 2013 were videotaped in a residence in Samsung-dong, which Lee newly built by the time of videotaping.
The Samsung-dong residence building was completed in March 2012. This implies that  Lee utilized the Nonhyun-dong villa as his safe house by first quarter of 2012, until the residence was still under construction. Then, he suspectedly bought sex services at this new house.  
Back in 2012, media coverages focused on the purpose of the Samsung-dong property, producing various speculations.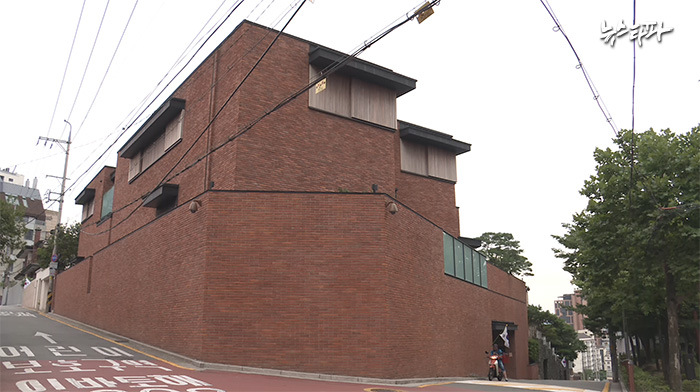 The location of the Samsung-dong estate was noticed by scenes captured in the video itself.
After the suspected prostitution, one of the women captured the external scenery glimpsed through the car windows with a camera while she was driving out of the house.
As a result of tracing few of key landmarks in the videos such as buildings, signs and electricity poles, we were able to confirm this Samsung-dong house as the location of the filming. To double check, the certified copy of registration proved that the Samsung-dong estate was owned by Lee. KCIJ-Newstapa reporters were not previously aware of the fact.
The Nonhyun-dong villa unit was identified after KCIJ-Newstapa actively carried out on-the-spot inspections by visiting each place appeared in the footages.
The external hard drive, exclusively obtained by KCIJ-Newstapa, contained a photo of an unidentified villa. Based on this photo, we conducted on-spot searches to clearly identify where the photo was taken.
This upscale villa was renown for its uptight privacy maintenance; confidentiality is strictly kept and secured by building a separate elevator for each unit and the elevator is a model which requires password.
With strict secrecy prepared, the villa garnered a fair number of celebrity residents.
Each unit consisted of a usable area of 245 square meters, and the building was spacious enough to host three on each floor, which makes a total capacity of twelve households per building.
After making inquiries to nearby real-estate agents, KCIJ-Newstapa heard that Chairman Lee was spotted in the neighborhood once or twice every month from 2008 to 2012.
An employee at the villa also told that he heard the same fact from his predecessor.
According to the sources, KCIJ-Newstapa investigated to figure out which unit Lee was residing at by comparing interior features appeared in the footages with other houses.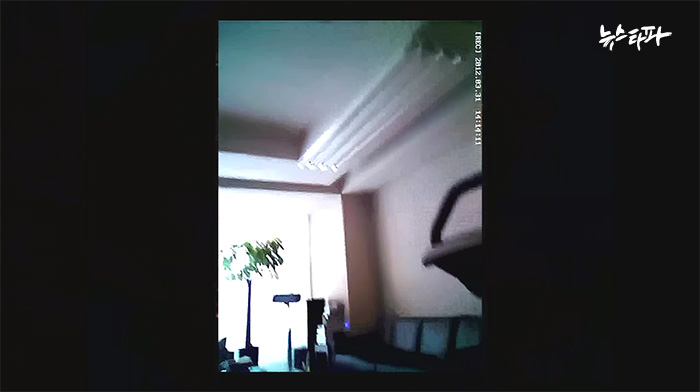 The Nonhyun-dong safe house was under contract using name of a Samsung affiliate CEO, who was a former staff of the Chairman's secretariat
KCIJ-Newstapa discovered some surprising information while reviewing the villa unit's real estate registry documents.
According to the document, a CEO at one of Samsung affiliates was named a tenant who leased this villa unit under a jeonse (two-year lump-sum deposit based rental) contract from March to September in 2012.
The footages of the chairman's suspected prostitution were filmed in December 2011 and March in the following year.
The contract has set the tenant's lease for six months starting from March 2012, but it is estimated that the actual period of lease had begun in 2010 considering the fact that jeonse contracts in Korea are usually effective for two years  
The executive whose name was on the housing contract was identified to be Kim In, currently an advisor and former president of Samsung SDS. Kim has been one of Samsung Group's leading executives, serving as president of SDS for eight years since 2003 and president of Samsung Lions from 2011 to 2015.
Kim also was one of most trusted aides to Lee Kunhee. Just within four years of entering Samsung, he was picked to serve at the Chairman Secretary's office in 1977. Through the 1990s, he headed the human resources team at the Secretary's office.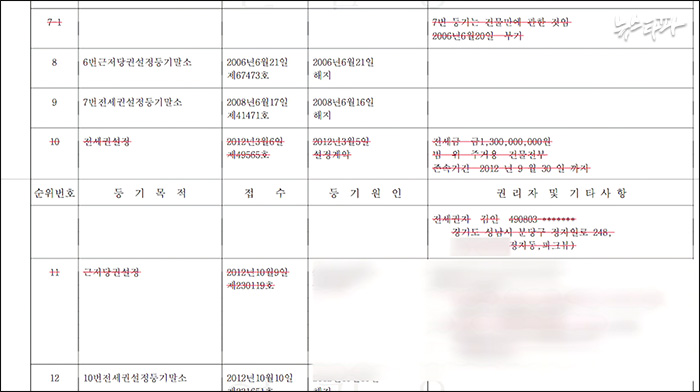 When KCIJ-Newstapa inquired him in person, Kim reacted as if he was totally oblivious on the existence of the Nonhyun-dong villa, which was rented under his name. He even questioned whether or not the reporter had gotten his name correct, and if the person referred by the documents might be a different individual of the same name.
When we showed him an official copy of real estate registry document, Kim answered that he assumed of Samsung SDS possibly having used his name when signing a jeonse contract to provide a residence for foreign employees as he served as CEO of the company during the period.
However, a Samsung SDS representative confirmed that the company never uses CEOs name when making a housing lease contract for such a purpose. The company usually uses the corporate name, the SDS representative explained.
He also clarified that there has been no cases in which Samsung SDS hired a high-level foreign businessperson who needs to be provided with an exclusive accommodation as luxurious as 1.3 billion won ($1.1 million).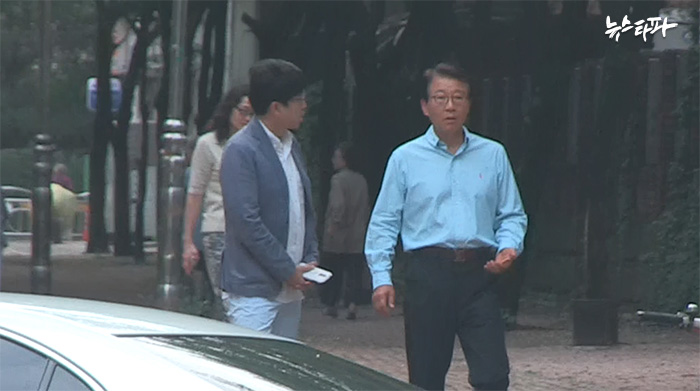 Thus, there was no way other than understanding the circumstances that someone illicitly appropriated Kim's name to lease the Nonhyun-dong villa, unbeknownst to Kim himself. Then, someone should have set Lee Kunhee to use this place.
Who would have been in charge of this procedure? Who or what organization is behind?
KCIJ-Newstapa sent an inquiry to Samsung Group on July 19, questioning what was the source of 1.3 billion won and how has the Chairman's Secretary's office was involved in the jeonse contract. However, the Group has never replied back as of the night of July 21.
Soon after KCIJ-Newstapa made the inquiries to the Group, Kim In took back his previous claims. Kim explained that he did personally allowed the jeonse contract to be signed under his name.
Kim has lived in a unit of apartment complex in Bundang, Seongnam, Gyeonggi Province, for the past 12 years ever since the complex was completed construction. In 2011 and 2012, he's never stayed at home moving from a city to another while attending all Samsung Lions' games as the club's CEO.
After Kim switched his stance, KCIJ-Newstapa asked additional questions why he signed in a two-year jeonse lease contract in the high-end villa in Nonhyun-dong, and why he lent the place for the chairman to do prostitution. However, Kim has never replied back since then, refusing all our phone calls.
If an arm of Samsung Group facilitated Lee's illegal prostitution process, the Group itself may not stay free from legal or moral responsibility on this allegation.
The Korean 'Act on the Punishment of Intermediating in the Sex Trade and Associated Acts' decrees to impose three years of imprisonment or a penalty of up to 30 million won ($26,000) to those who participated or involved in prostitution.
Who videotaped Lee's prostitution, why and how?
Considering that the camera recorded nearby areas in reflection on the mirror, one of the women videotaped the undercover footage while at the alleged house for prostitution.
"The plan failed, as we were told to leave our purses outside. But he made a reservation for a month from now," the woman said at a phone call with unidentified person after finish videotaping.
The phone call indicates that she carefully planned out videotaping Lee's prostitution with a collaborator.
An external hard drive KCIJ-Newstapa procured also included traces of the suspected collaborators who have planned out the videotaping.
There were allegedly two collaborators, surnamed Sun and Lee, to be the prime instigators behind this scheme.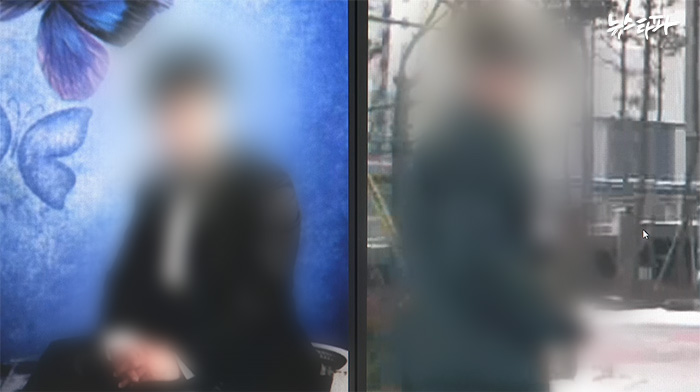 The two men seemed to have collaborated with one of the sex workers to videotape the footages, in an attempt to blackmail Samsung for money.
In the hard drive obtained by KCIJ-Newstapa, photos of women who allegedly offered sexual services to Lee were saved in a folder titled 'Agent.' Also included were document files of research findings on Samsung.
Some of the document files included screenshots of emails sent to Samsung executives.  The emails demanded for money just like classic blackmail schemes, but we were unable to confirm the two men actually sent out the emails because the only evidences were screenshots of the email texts.
A Samsung representative confirmed that they received calls asking for money by mentioning Lee's videos, but that they did not respond as they didn't believe the story.  
The Group ignored them, choosing neither to report to the police, nor to probe about the video's existence, the representative explained.
Sun and Lee, the suspects behind the filming and blackmailing, were released on parole after being convicted for drug abuse in 2014. Both have adopted new names since then.
However, they've been missing after changing names.
KCIJ-Newstapa succeeded tracking down to reach out to Sun's brother and Lee's ex-wife. However, both said they have no ideas on the two men's whereabouts.