NORTH KOREA
Dark clouds over the alliance
---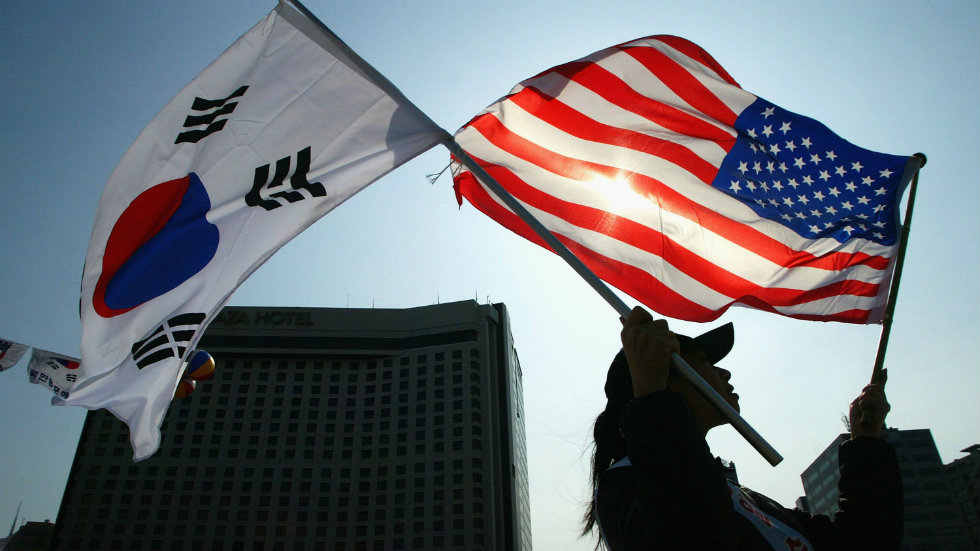 A Washington conference underscores rifts in US-ROK relations
Why did the Moon Jae-in government's National Unification Advisory
Council (NUAC) try to find a "common North Korea strategy" with the United States at a conference where every US speaker was a hardliner pushing for the Trump administration's "maximum pressure" campaign led by sanctions and the threat of "preventive" war?
And while the South Korea delegation included several proponents of direct dialogue and a peace process with the North, why did the organizers fail to invite any of the many Americans seeking a negotiated settlement to the North Korean nuclear and missile crisis to this important meeting?
Those were the thoughts of this reporter after covering a five-hour conference in Washington on December 14 co-sponsored by Moon's advisory council and the Center for a New American Security (CNAS), a think tank founded by former Pentagon officials close to the Democratic Party. Most of the audience was made up of South Korean nationals living in the US who were appointed to the NUAC by President Moon.
In addition to CNAS, which organized the meeting, the top American speakers all represented think tanks closely aligned with the US military and the political right, including the Heritage Foundation, the Center for Strategic and International Studies (CSIS) and the Foundation for the Defense of Democracies (FDD).  
Given the dominance of the conference by the US hard-liners, it should have been no surprise that the mutual quest for a "common policy" exposed deep fissures in the US-ROK alliance that are sure to surface over the next few months.
The strongest clash emerged over South Korea's relations with China, which President Moon reinforced last week with a four-day summit with Chinese Premier Xi Jinping in Beijing. During their meetings, the two leaders emphasized their mutual, long-standing differences with Japan over its colonial and imperial policies during World War II.
Moon and Xi also ironed out their differences over the US deployment of THAAD anti-missiles batteries to South Korea and agreed to a principle of a "peaceful resolution" to the North Korean nuclear issue. And in one event reported by Hankyoreh, President Moon expressed his condolences and sympathy for the victims of the Nanjing Massacre.
Those statements deeply angered Bruce Klinger, who spent 20 years as a Korea analyst with the Central (CIA) and Defense Intelligence (DIA) agencies before becoming a senior research fellow at the extreme-right Heritage Foundation. Klinger, who frequently appears on US cable television to talk about North Korea, lit into President Moon for placing Chinese ties ahead of his relationship with Japan.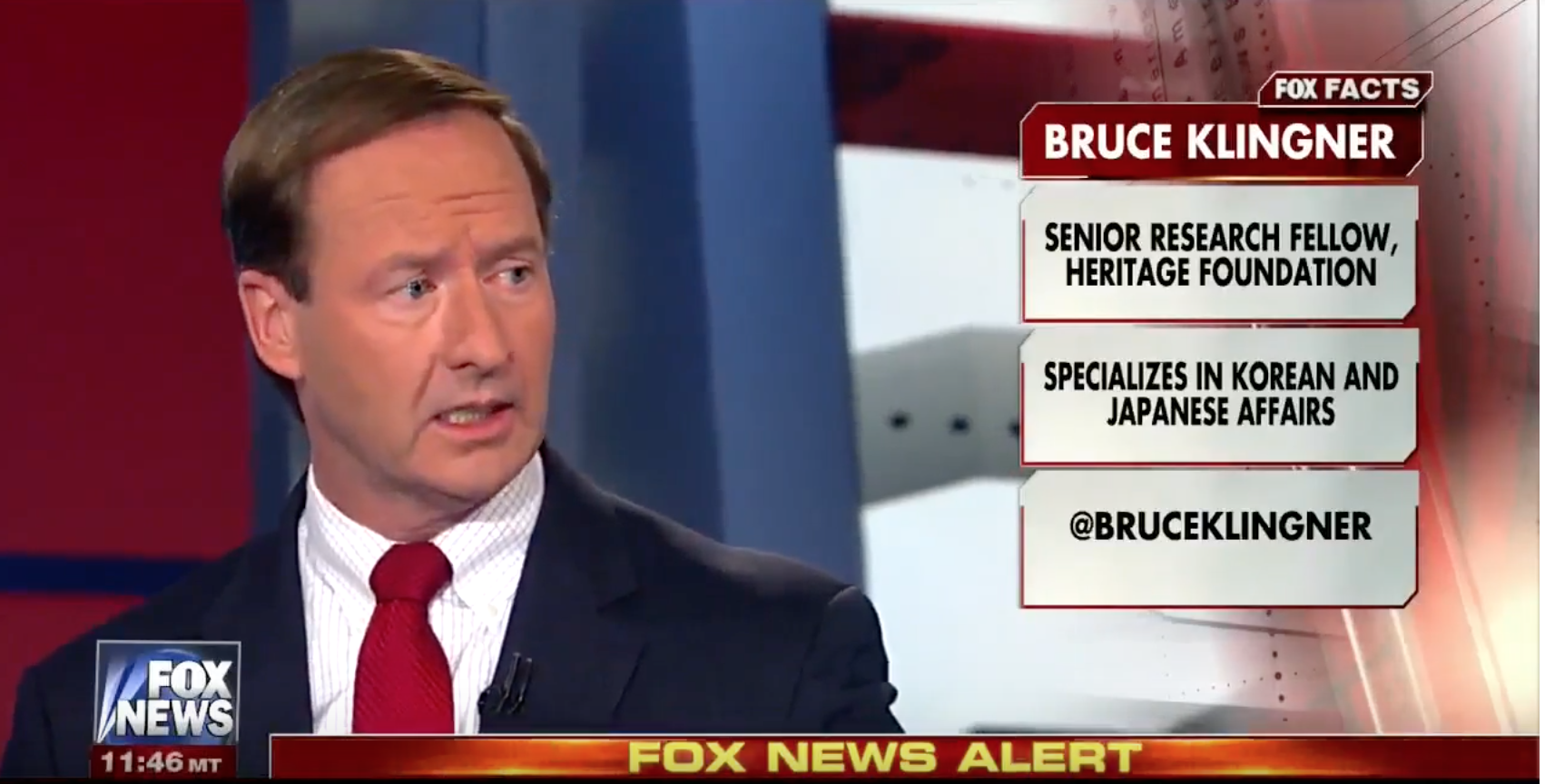 Moon played "the nationalist history card," he charged, chiding the South Korean president for not acknowledging that "it was China that redivided the Korean peninsula" by intervening in the North in the winter of 1950. He was also critical of Moon for agreeing to resolve THAAD, saying that "should be an alliance decision" made in consultation with the United States. (Ironically, at the same time Klinger was criticizing Moon, the North sharply attacked his China visit, saying that South Korea "holds onto the hem of the trousers of external forces.")
Klinger urged South Korea to see Japan as part of its alliance with the United States rather than a former colonizer. "The United States can't defend South Korea without Japan," he said. In case of a war, he said US forces would "need access" to Japan's many military bases as well as the fleet of anti-submarine warfare ships in Japan's Maritime Self-Defense Forces.
Klinger's comments drew a sharp rebuke from Kim Joon Hyung, a professor at Handong Global University who has helped craft President Moon's policies towards North Korea as a member of his National Security Policy Advisory Committee. Although he didn't directly follow Klinger, his remarks were clearly directed at the former CIA analyst's observations.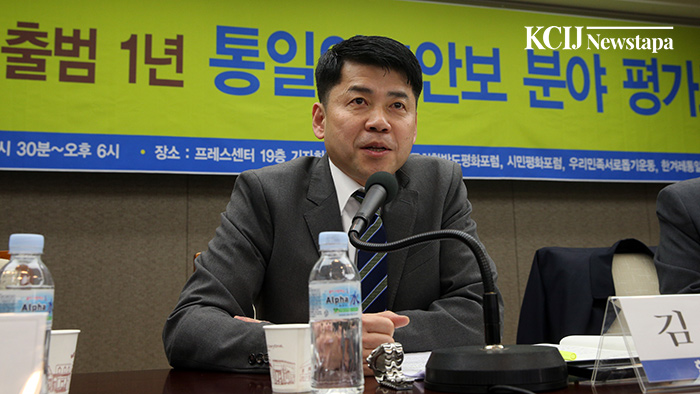 Speaking of Japan and its attitude about its World War II crimes, Kim said "Abe show no signs of remorse." And of the proposals for a US-Japan-South Korea trilateral military alliance, he said, "I can't agree with that kind of view." Overall, he said, the United States "must be more considerate" of what it considers its "junior partner. There must be reciprocity."
Kim also alluded to recent statements from President Trump and Senator Lindsey Graham that war is inevitable if North Korea refuses to give up its nuclear arsenal. "They are ratcheting up the stress level of the Korean people," he said. "It's too one-sided, it's lop-sided. The reciprocity of the alliance has become unbalanced."
On the issue of sanctions, which all the US speakers endorsed with enthusiasm, Kim cautioned that economic and financial penalties on Pyongyang "need to be pursued, but dialogue and negotiations must be continued." He agreed with comments made the day before by Secretary of State Rex Tillerson, who had called in a public speech for "dialogue without conditions" with North Korea (he was later forced to backtrack from his remarks after the White House objected).
But Kim's warning about US-South Korea relations was stark. "There are dark clouds over the alliance," he declared.
Those clouds are especially visible over the differing long-term goals of the US and South Korea on the peninsula, as discussed at the conference. Klinger's talk, for example, was titled "Time for Shock and Awe Sanctions on North Korea," a reference to the massive bombing campaign that led off the US invasion of Iraq in 2003. His vision, shared by his American colleagues, is to maximize the use of sanctions and other economic and diplomatic pressures to force North Korea to terminate its nuclear program. There is no "middle ground" in this strategy for a temporary freeze by Pyongyang based on the North's recent declaration that it has finally completed its "state nuclear force" by testing its long-range Hwasong-15 guided missile. Many analysts saw that as an invitation for talks.
Not so, argued Klinger. "There is little utility to such negotiations as long as Pyongyang rejects their core premise, which is abandonment of its nuclear weapons and programs," he said in his written comments. He cited a meeting he held earlier this year with North Korean diplomats as part of the "Track 1.5" dialogue between Pyongyang and US non-governmental organizations.
"North Korean officials," he said, "showed no signals of flexibility or willingness to negotiate." Instead, they demanded to be accepted as a nuclear state. If that occurs, then they would be "prepared to talk about a peace treaty or fight." Therefore, Klinger said, even greater sanctions are needed to pressure the North into giving up its dream, and so far the Trump administration is "underperforming" in this area. Therefore, a "freeze for freeze" in which the North temporarily halts its testing and the US and South Korea scale down their exercises, "is not viable."
Sue Mi Terry, another former CIA analyst who now runs the Korea programs at the Center for Strategic and International Studies (CSIS), was at the same 1.5 meeting as Klinger and repeated Klinger's assertions. "North Korea's own stated position is to refuse negotiations," she declared (other participants in these meetings, such as Suzanne DiMaggio of the New America Foundation, disagree with her assessment, and say that the North Korean diplomats insist they will talk only when the US ends its "hostile policies.")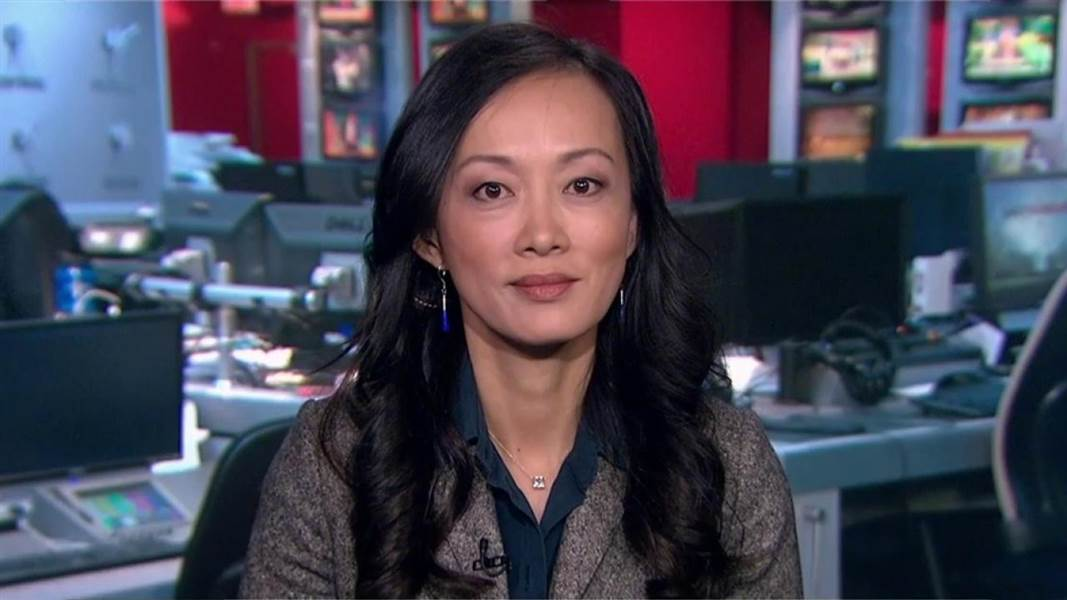 Terry concluded: "The US and South Korea must stay closely aligned, despite our philosophical differences, to deal with the menace we're facing from North Korea." Anthony Ruggiero, a senior fellow at the Foundation for Defense of Democracies, an organization affiliated with neoconservatives, endorsed the arguments against diplomacy absent a North Korean pledge to get rid of their weapons. "North Korea's interest in engagement and arms control is essentially accepting North Korea as a nuclear state," he said. "To believe they will talk, talk, talk, and then agree" to denuclearize – "that will not happen."
Those hard-line declarations seemed to upset Kim Joon Hyung, Moon's adviser. "The DPRK issue threatens our very lives," he replied to Ruggiero. "Even if it takes a long time, we must pay attention."
A more patient approach was also endorsed by Kim Deog-ryong, NUAC's executive vice chairperson and a former member of South Korea's National Assembly. He made clear South Korea would welcome an "unconditional dialogue" with the North and emphasized that the Moon administration is hoping to use the upcoming Olympics "to create a peace environment." He provided more details in his written presentation, focusing on the necessity of responding to what the North calls the US "hostile policy."
"We cannot afford not to address the reasonable security concerns of North Korea in order to create a momentum to freezing the North's nuclear capabilities and denuclearizing the Korean Peninsula," he wrote. He added that the Moon government "intends to realize" that goal "through the establishment of a peace regime" in Korea that must involve the "normalization" of both inter-Korean and US-North Korean relations. "We should create conditions that help eliminate North Korea's nuclear weapons at the final stage by employing all these efforts."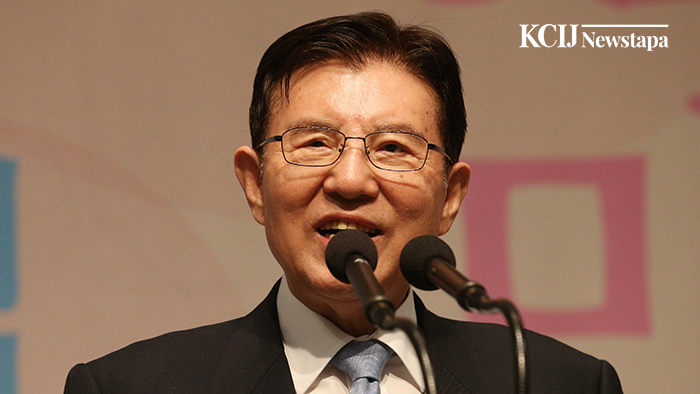 But US hardliners want to get to that final stage much earlier. Their goal is North Korea's unilateral denuclearization through any means necessary, even if that means the use of military force. That goal was most recently stated this week by H.R. McMaster. Asked on CBS News if there is a situation where the US could co-exist with a nuclear North Korea, even for a limited time and as part of a peace process, he answer was unequivocal. "I don't think we can tolerate that," he said. "The world can't tolerate that risk."
Back at the conference, the the most significant difference between the South Korean and US perspectives emerged in the remarks delivered by Kim Joon-hyung (in favor of engagement) and Bruce Klinger (in favor of confrontation). Kim's plea for reciprocity was matched in his printed speech by an outline of South Korea's place in the global and Northeast Asian security environment. He took a page from President Moon, who recently warned that he wanted to avoid both a nuclear North Korea and a pre-emptive US attack.
South Korea, explained Kim, faces the "emergence of nationalistic foreign policies of superpowers." He mentioned "Putin's revival of the Eurasian Empire; Xi Jinping's revival of China through Strong China Dream; Abe's revival of an Empire in East Asia; and Trumpism of the US." South Korea, in other words, is alone as a smaller power trying to find its way through a world ruled by big nations and empires to resolve a crisis involving the northern half of Korea. "Moon Jae-in administration: Sandwiched?" he asked.
Klinger and the American power structure see the challenge much differently. The greatest task for the United States and South Korea in the crisis, he said, "is keeping everyone together in the posse, all with the same objective." It was an interesting term: "posse" is defined in the dictionary "as a body of men, typically armed, summoned by a sheriff to enforce the law." But in America, it raises up imagery from literature and Hollywood movies of a Western mob capturing a notorious outlaw – and then hanging him from the nearest tree.
Thus, while Moon and Korean voters want to create the conditions for denuclearization through dialogue and negotiations, the goal of US hawks is to create a coalition that will force Kim Jong Un to disarm – and if that doesn't happen, to "decapitate" his regime. That's a stark contrast, and may not be reconcilable. If the Moon government and the NUAC are looking for true allies, they should go beyond the pro-military think tanks and instead build ties with the many US peace and disarmament groups that seek engagement and appreciate the aspirations of the vast majority of South Koreans for peace and eventual unification.