SPY
The 14th Confession
---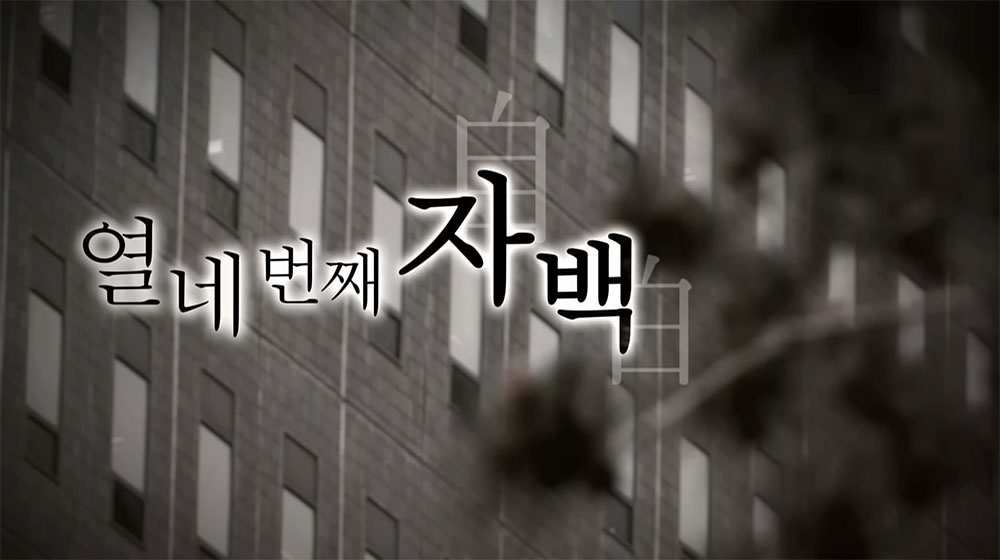 Kang Chul Hong served as a broker (used in the sense of an aid or middleman; despite more fitting words, we will stick to the term here as it is employed in the Korean context) for North Korea escapees, until he himself escaped to South Korea in September 2013. However, he was forced to concede to espionage charges administered by the Ministry of Defense's Central Interrogation Coalition (now named Protective Center for North Korean Dissidents), namely for being an agent dispatched from the N. Korean Security Headquarters. Since the coalition's establishment in 2008, he is the fourteenth N. Korean escapee to confess to espionage charges in submission to the N. Korean government's orders.
The prosecutors announced of this case the day that the factual verifications department at the Supreme Public Prosecutors' Office scrutinized the Ministry of Defense to set the facts straight on Woo Sung Yu's case of unwarranted espionage charges.
'Busted: North Korean Spy Sent From Its Security Headquarters', conservative presses beamed.
However, things are no longer looking bright for either the Ministry of Defense or the police. As of the trial on September 1st, 2014, Hong was declared innocent. If he were conclusively found free of guilt by the second trial's closing, his case would corroborate to the conspiracy that the Ministry of Defense's treatment of N. Korean escapees must have involved. Even after the 'Woo Sung Yu incident', their schemes to wrongly impute innocent individuals as spies persist. For a year and a half, Newstapa searched for the truth.
The above photograph shows Kang Chul Hong immediately after he'd escaped from N. Korea, past the Yalu River and into mainland China, accompanying Mrs. Park and her daughter. Though looking skinner and rough-skinned in appearance than now, his facial expression speaks of relief for the safe escape journey. He had no idea, then, that he could be arraigned as a spy. But by the time he returned to S. Korea, news of a successful conviction of a N. Korean informant and escapade-broker had already reached the Ministry of Defense. Yu, a broker who supposedly came close to being arrested, had turned him in.
Yu had promised Kang Chul Hong's compatriots that he would go fetch them in China. When the scheduled time to meet them came around, he was MIA. He was allegedly struck with an impression that Hong was conniving to turn him in. When Hong and the Parks, via newfound connection, opted for another broker's services, Yu blackmailed Mrs. Park. She ended up suing Yu for this, for which he was obligated to pay a penalty of 5 thousand dollars (5,000,000 KW). Consequently, he reported Kang Chul Hong to the police as an informant for N. Korea's Security Headquarters.  
The above photograph shows Kang Chul Hong reenacting the interrogation he was forced into by investigators at the Central Interrogation Coalition. He is clad in the exact uniform he had to wear at the time. For 135 consecutive days, he was individually confined and inspected by the Central Interrogation Coalition. Apparently, he was questioned repeatedly whether he 'might be an informant for N. Korean Security Headquarters' for an entire week. Investigators conferred upon him alcohol and cigarettes to reward him for responses that aligned with their motives. Under the immensely pressurized interrogative process, he found himself frequently confessing to unwarranted charges, as well as rescinding many of his own claims.
Among the charges Kang Chul Hong had faced was 'reportage of ideological trends in pro-unification forces.' Hong can vividly recall the conception of these charges. His moment of reminiscence in fact, comprises the most exciting part of this documentary. Ultimately, the condition of 'bringing his family' promised by a Ministry of Defense executive officer was primarily accountable for inducing his confession to espionage charges without further dissent. The officer had smugly assured him that 'seeing how easily we're able to bring people all the way from Pyongyang, there's no reason we'd be unable to bring your family who are so close to the border.' Kang Chul Hong ended up confessing to purported attempts to arrest Yu, wherein he claimed to have acted under the directives of a N. Korean Security Headquarters' executive officer.
We inquired a foreign expert to evaluate the sanity of the procedures undertaken at the Central Interrogation Coalition. Richard Leo, Professor at the University of San Francisco School of Law, attests to 'extremely heightened possibilities for individuals to make false confessions when coaxed, imprisoned, and/or interrogated for 180 or more continuous days. 'Like every other literate nation', S. Korea should enact regulations against false confessions along the means of prohibiting solitary confinement, restricting the duration of interrogations, granting permission to contact lawyer, and preserving all evidential materials by recording the whole procedure.
According to Hong, the Ministry of Defense promised that his case would be untouched by the media and the presses. Contrarily, prosecutors crowed about busting a North Korean Security Headquarters' spy for the sake of leveraging the presses to their favor. While dramatized and manipulated versions of the truth spread, Hong, locked up in a detention center, was unable to act upon this injustice. Though the prosecutors made a formal apology for initiating undue media coverage, the publicity shed on Hong's story caught the attention of a guild of lawyers belonging to 'Dandelion (dandelion association championing for victims of state-enforced violence).' Lawyer Kyung Wook Jang, a Dandelion member, upon convening with Kang Chul Hong was informed of how the confession was in reality, 'all a setup' plotted against Hong. In the ensuing five months of judicial dispute, Hong was found innocent. What did he ask for as soon as he stepped out, to spend his very first moment of liberation with? Cigarettes.
Anticipating his chance to lead a peaceful life as a S. Korean citizen, Kang Chul Hong attends to his trial duties. The lawyers of 'Dandelion' are still busily immersed in exonerating him of espionage charges.
Thirteen people besides Hong were accused of espionage upon such confessions coerced out of them at the Central Interrogation Coalition. When Hong was placed in the Central Interrogation Coalition, Woo Sung Yu had recently been cleared, as of his August 2013 trial. In other words, the investigators at the coalition had recently seen how the false confession they'd conspiratorially induced out of Woo Sung Yu's sister, Ka Ryeo Yu, fell apart in the courtroom. Clearly, the experience was sorely insufficient to make them acknowledge their faults. Far from rectifying their behavior, they proceeded with false accusations and confessions for Kang Chul Hong no differently than they treated Yu. Likewise, the court ruled in favor of Hong's innocence.
If this happened after Yu's incident, how bad was it beforehand? Solely from our investigations, Kyung Ae Lee, Si Uhn Lee who purportedly deceived a lie detector using a patch from the North, and Jong Su Han whose confession at the Center drove him to suicide, add up to three cases. Such a reality substantiates the exigency to identify confessions that were conspired against the thirteen N. Korean escapees facing false indictment.
Dandelion is an organization of citizens dedicated to the cause of giving relief to victims of state-enforced violence. To aid these victims, lawyers of Dandelion provide their services at no expense. Dandelion hopes to become influential enough to put a stop on the Ministry's anachronistic behaviors, i.e. witch-hunting N. Korean 'spies.' Furthermore, judicial procedures should initiate proper retrials for falsely accused victims. Dandelion's ultimate goal consists of identifying and prosecuting the conspirators to ensure that no such incident recurs.